On July the 24th and August the 21st this year will take place the already well known "Borgian dinners with jazz concert" in our emblematic the Arms Courtyard.
The dinner and the concert will take place after a special night tour in the inside of the "Palau Ducal dels Borja" (Spanish language). The dinner will be prepared by "Molí Canyar" restaurant and the concert will be given by amazing jazz trios.
A memorable dining experience that you can't miss.
This year the groups who will sweeten the evenings will fill the palace with tributes to great musicians. "Paul Evans Trio" band on July 24th will tribute George Gerswhin and "Randy Greer Trio" on August the 21st will tribute Nat King Cole.
The ticket price for this dinners is 60€ per person and you can buy it on this website tab TICKETS or contacting us to the email direction visites@palauducal.com or calling to 962871465 during our opening hours. People booking ticket by mail should pass by our ticket office to acquire the tickets.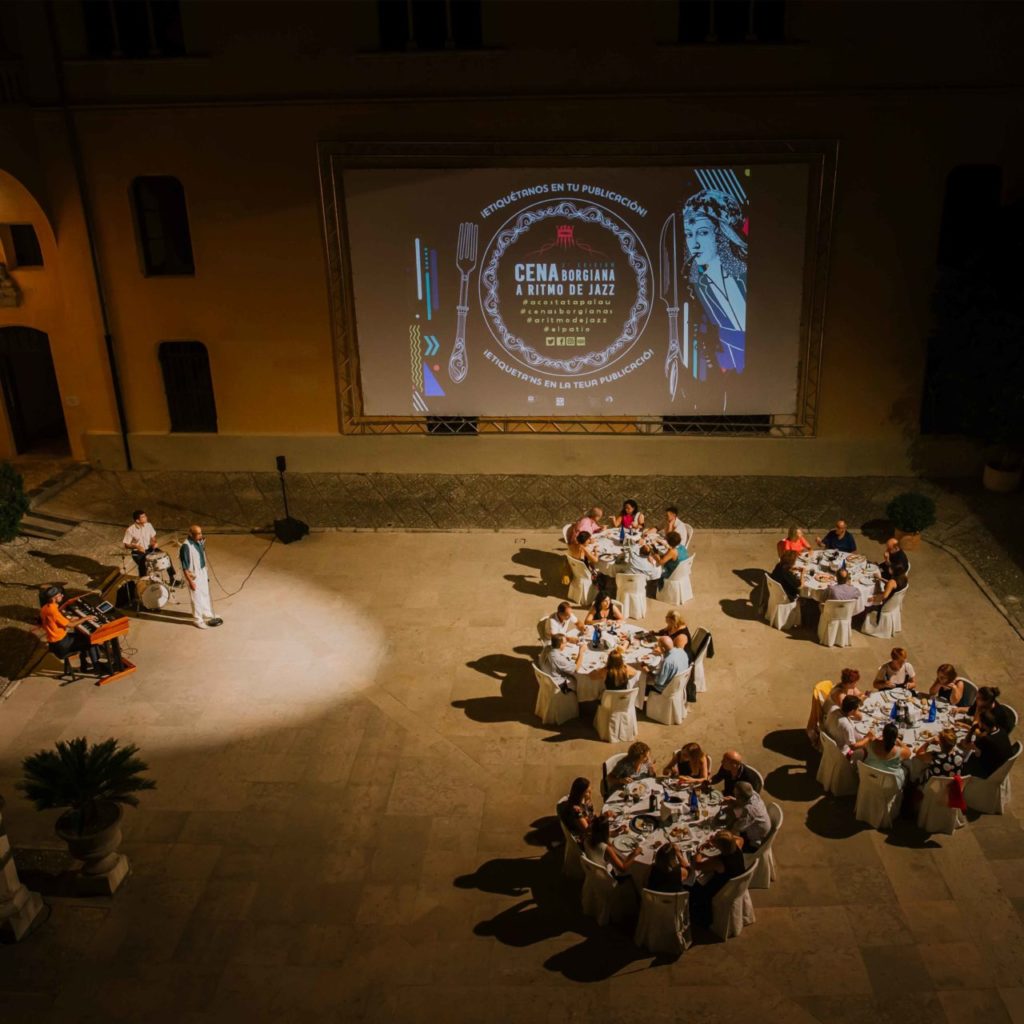 Night tour + dinner + live jazz concert
Price: 60€
Adult's menu
Starters
– Dried salted Tuna and grilled vegetables pasty baked with mayo on the top
– Caramelized pineapple bonbon stuffed with salmon and fresh cheese
– Creeps molí
– Goat cheese salad with nuts and sweet and sour sauce
– Lemon sorbet
First dish (to choose one of them)
– Hake with "all i pebre" sauce(garlic and red pepper)
– Iberian knuckle with garnish
Dessert
– Arnadí (pumpkin and almonds cake)
Coffee
Wine, water and fizzy drinks are included in the menu.
Milhojas DNO Rioja (Red wine)
Embrunas DNO Verdejo Rueda (White wine)
*The main dish must be chosen at the time the tickets are acquired.
* Inform possible intolerances or allergies.
* For further information about the Children menu send us a mail to visites@palauducal.com