Have you seen all that we have ready for you?. The Ducal Palace of the Borja's has a wide cultural programme including art exhibitions, public and private events… All has been thought specially for you  to enjoy, not only with the history of the most emblematic building around the district but also with its culture art and tradition, in a magnificent environment. 
Mon

Tue

Wed

Thu

Fri

Sat

Sun

March

March

March

March

1

2

3

4

5

6

7

8

9

10

Clausura de la exposición Donart 2022

https://www.palauducal.com/event/clausurade-la-exposicion-donart-2022/2022-04-10/

No additional detail for this event.

DISFRUTA DE "UN BANQUETE CON LOS BORJA" EN EL PALAU DUCAL

https://www.palauducal.com/ca/event/disfruta-de-un-banquete-con-los-borja-en-el-palau-ducal/2022-04-10/

El próximo 10 de abril a las 13 horas tendrá lugar "Un banquete con los Borja" una nueva propuesta que se incluye dentro del Festival Festín, organizado por Valencia Turisme. Dicho festival trata de fusionar el arte con la gastronomía, con propuestas gastronómicas en enclaves patrimoniales o culturales.

https://www.palauducal.com/producto/un-banquete-con-los-borja/

11

12

13

14

15

16

17

18

19

20

21

22

23

24

25

26

27

28

29

30

May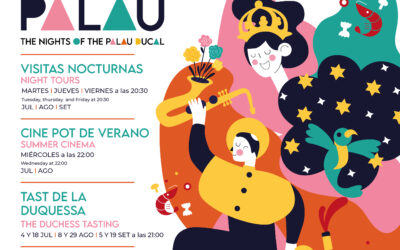 One more year the Palau Ducal dels Borja presents its activities for summer nights, the summer you were waiting for! A lot of activities to enjoy gastronomy, music, and the vast patrimonial legacy of the Borgias.
PALAU DUCAL DELS BORJA DE GANDIA
C/ Duc Alfons el Vell, 1.
39.966117, -0.180098
46701 Gandia (Valencia) ESPAÑA