Have you seen all that we have ready for you?. The Ducal Palace of the Borja's has a wide cultural programme including art exhibitions, public and private events… All has been thought specially for you  to enjoy, not only with the history of the most emblematic building around the district but also with its culture art and tradition, in a magnificent environment. 
Mon

Tue

Wed

Thu

Fri

Sat

Sun

September

September

September

September

1

2

3

4

5

6

7

8

9

10

11

12

13

14

15

16

17

18

19

20

21

22

23

24

VISITAS TEATRALIZADAS

https://www.palauducal.com/event/42647/2021-10-24/

Desde el Palau Ducal dels Borja de Gandia ponemos a tu disposición una variedad de visitas guiadas especiales, para que disfrutes del Palau de otra forma. Experiencias únicas e irrepetibles que te acercarán a la historia de uno de los monumentos civiles más representativos del patrimonio histórico valenciano.

Descubre el Palau Ducal dels Borja acompañado de las duquesas y de los duques más importantes de la familia Borja como María Enríquez, Francisco de Borja y su bisabuelo el papa Alejandro VI, Juana de Aragón o Juana Fernández de Córdoba entre otras. Estos personajes te invitan a descubrir una visión muy diferente, no solo del edificio, sino también de la historia pasada y presente del Palau.

Duración aprox.: 60 min. 

Aforo limitado.

Reservas a: +34 962 871 465 | visites@palauducal.com

DE OCTUBRE A JUNIO Dos domingos de cada mes (consultar fechas). Necesario reservar previamente.

Normal: 10 €
Reducida*: 9 €
Especial: 6 € (menores de 7 a 17 años; personas con discapacidad)

*Jubilados, personas en situación de desempleo, familia numerosa, estudiantes.

Para beneficiarse de los descuentos es necesario presentar la acreditación correspondiente.

https://www.palauducal.com/visitas-teatralizadas/

25

26

27

28

29

30

31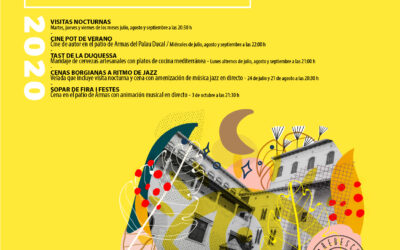 July and august 2020 Would you like to do something different this summer? Now you can with the wide range of activities thath Palau Ducal dels Borja offers you so as not to be bored during your leisure time at july and agost: concerts, dinners, cinema, tastings and...